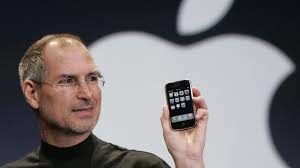 I remember I was at NY when iPhone first released. It was Steve Jobs took the stage at the Moscone Center in San Francisco on January 9, 2007, to announce that Apple had reinvented the mobile phone.
I in fact got my unlocked iPhone-1 from a chinese store at Queens and its still with me now.
The moment that Steve Jobs introduced the iPhone turns out to have been a pivotal junction in the history of technology—and the world."
There are vintage years in wine and vintage years in history, and 2007 was definitely one of the latter.
Because not just the iPhone emerged in 2007—a whole group of companies emerged in and around that year. Together, these new companies and innovations  have reshaped how people and machines communicate, create, collaborate, and think."
In 2007, storage capacity for computing exploded thanks to the emergence that year of a company called Hadoop, making "big data" possible for all."
In 2007, development began on an open-source platform for writing and collaborating on software, called GitHub, that would vastly expand the ability of software to start, as Netscape founder Marc Andreessen once put it, "eating the world."
On September 26, 2006, Facebook, a social networking site that had been confined to users on college campuses and at high schools, was opened to everyone at least thirteen years old with a valid e-mail address, and started to scale globally."
In 2007, a micro-blogging company called Twitter, which had been part of a broader start-up, was spun off as its own separate platform and also started to scale globally. "
Change.org, the most popular social mobilization website, emerged in 2007."
In late 2006, Google bought YouTube, and in 2007 it launched Android, an open-standards platform for devices that would help smartphones scale globally with an alternative operating system to Apple's iOS. "
In 2007, AT&T, the iPhone's exclusive connectivity provider, invested in something called "software-enabled networks"—thus rapidly expanding its capacity to handle all the cellular traffic created by this smartphone revolution. According to AT&T, mobile data traffic on its national wireless network increased by more than 100,000 percent from January 2007 through December 2014."
Also in 2007, Amazon released something called the Kindle, onto which, thanks to Qualcomm's 3G technology, you could download thousands of books anywhere in the blink of an eye, launching the e-book revolution."
In 2007, Airbnb was conceived in an apartment in San Francisco. In late 2006, the Internet crossed one billion users worldwide, which seems to have been a tipping point.
In 2007, Palantir Technologies, the leading company using big data analytics and augmented intelligence to, among other things, help the intelligence community find needles in haystacks, launched its first platform."
In 2005, Michael Dell decided to relinquish his job as CEO of Dell and step back from the hectic pace and just be its chairman. Two years later he realized that was bad timing. "I could see that the pace of change had really accelerated. I realized we could do all this different stuff. So I came back to run the company in … 2007."
It was also in 2007 that David Ferrucci, who led the Semantic Analysis and Integration Department at IBM's Watson Research Center in Yorktown Heights, New York, and his team began building a cognitive computer called Watson—"a special-purpose computer system designed to push the envelope on deep question and answering, deep analytics, and the computer's understanding of natural language," noted the website HistoryofInformation.com. "'Watson' became the first cognitive computer, combining machine learning and artificial intelligence."
In 2007, Intel introduced non-silicon materials—known as high-k/metal gates (the term refers to the transistor gate electrode and transistor gate dielectric)—into microchips for the first time. "
Last but certainly not least, in 2007 the cost of DNA sequencing began to fall dramatically as the biotech industry shifted to new sequencing techniques and platforms, leveraging all the computing and storage power that was just exploding."
Excerpt From: Thomas L. Friedman. "Thank You for Being Late."