Why should you use myBUSINESS SIMPLIFIED?
ONLY DATA YOU NEED
It gives you and your team the right data and the only data that you need to run your business successfully. We mean to say that we are ready to customise this solution to the extent where you feel it is designed specially for you
NO (MORE) TIME TO WASTE IN PREPARING REPORTS
It saves enormous amount of time that sales people usually spend in preparing reports. There is no need of report. Our solution gives the real time updated data on your dashboard and updates your managers dashboard real time. It keeps you and your Manager updated every time there is a transaction.
MISSED YOUR REVIEW MEETINGS?
No worries!!!. All the required data you would have wanted to get at the end of review meetings is already available on your dashboard. All you have to do is Act Act and Act!!!
WANT TO REPLACE/ RESIZE YOUR TEAM?
Get suitable advice from myBUSINESS SIMPLIFIED and take the right decision on right people
KNOW YOUR MAXIMUM CAPACITY UTILISATION
myBUSINESS SIMPLIFIED not only tells you on a daily basis about your team's productivity, it also gives you complete diagnostics about your capacity utilisation and productivity of each team member with recommended actions to take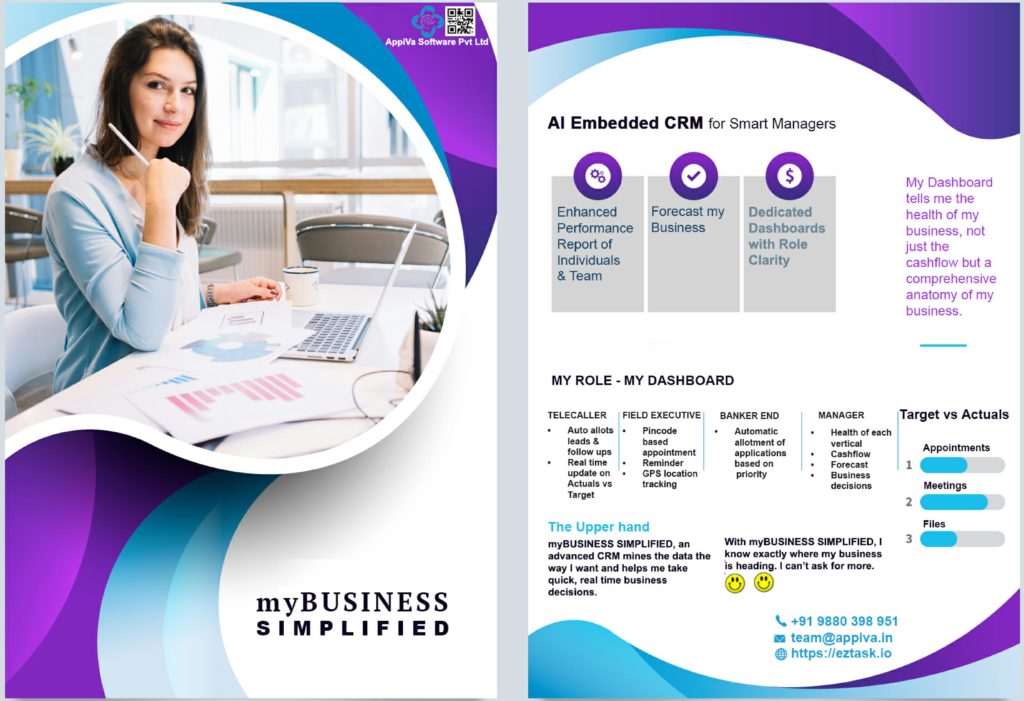 Be a Successful Businessman by using our smart application from ezTask.io